The observer usually takes note of the visual hues first while looking at an artist's work. Therefore, the choice of color by the artist can significantly influence the viewer's perception of an artwork. The same is true of Camille Pissarro. 
For most of his life, Pissarro painted in the impressionist style. The environment frequently impacted the compositions he was working in and how the ambient light, shadows, color, and weather changed. He was open to experimenting with different working methods and frequently found inspiration in his coworkers and mentors.
About Painter Pissarro
Pissarro was born in St. Thomas but spent years studying in France before relocating to Paris in 1855. He also briefly lived in Caracas. Pissarro had studied under Camille Corot and Anton Melbye in his early years. 
Their aesthetic affected some of Pissarro's subject selections; according to Rothkopf, these were often "modest landscapes, farm scenes, and portraits." Pissarro's impressionist paintings strongly connected to nature, and he used color to depict how light and shadow affected his immediate surroundings.
Consider one of his works, Banks of the Marne. This is one of the few works from the list of Camille Pissarro most famous painting "for which there is a surviving oil sketch." Here, the observer can see Pissarro's progression from a "study" to a finished product. 
He depicts light falling on the walkway, the sun's shine behind the tree, and the shadows that darken the hillside, which displays his "passion in atmosphere and shadow." Here, he uses light tans, greens, and whites to portray the light that has fallen and darker earth tones to represent the darkness. A lot of the time, Pissarro chooses realistically appropriate colors, given the nature of his subjects.
How Did Camille Pissaro Use Vivid Colors in His Paintings?
Painter Pissarro was one of the best impressionists of his time. The art movement known as Impressionism, which began in Paris in the middle of the 1800s, employed color to depict many types of light. 
Pissaro's work favors "harmonious, close valued hues." Later, he wanted to attempt something different, so he made his paintings more realistic by using vivid colors and evenly spaced-brush strokes. Finally, he focused on tone and texture in his Pissarro landscape paintings. 
French Impressionist Pissarro was curious about how color, shadow, and light affected his paintings. The legendary Pissaro achieved fame at the time due to his methods, however unorthodox they seemed.
Camille Pissaro's Sources of Inspiration
Pissarro mostly took inspiration from American novelist Celen Sabbrin. "The cautionary hand keeps the soul from rushing to her death, and nature doesn't set any hurdles in her path," she wrote. He used social injustice and the environment as motifs in his paintings. Additionally, he finds inspiration in his friends and coworkers. Because of his achievements at the time, Camille Pissarro successfully used color in his paintings.
Artist Pissarro sought to experiment with utilizing more vivid colors in his paintings around the middle of the 1800s. Pissarro used vibrant colors in addition to great tonal contrast. For instance, Montfoucault used colors of a comparable scale in his landscape paintings. 
Black, blue, green, white, and yellow served as the theme color for both "The Montfoucault Harvest" and "The Montfoucault Pear Tree." You may see some of the pure primary colors, such as blue and yellow, in the paintings. He also enjoys mixing colors and demonstrating how it looks when it's done. His depiction of Montmartre  Boulevard demonstrates his attempt to convey the briskness of the air.
He employed oil paint and short stabbing brushstrokes to achieve accurate color and texture in several of his Pissarro landscape drawings. Titanium white, yellow ochre, cadmium yellow, deep madder, viridian green, ultramarine blue, and burnt umber made up Pissarro's color scheme. Typically, he uses few colors in his paintings. Instead, he just used primary and secondary hues. 
Pissaro received criticism for using color but did not alter his behavior. Instead, he defended it. Pissarro's biographers admit that his late 19th-century artwork was disturbing, even dubious. No wonder this led to the failure of his first exhibition in 1883.
He created a novel way to enhance his works. He employed a technique known as "tiny dabs of juxtaposed color" rather than sprinkling brushstrokes. In this manner, he would produce a dazzling effect. In his painting of the "Peasants dwellings, Eragny Maisons de paysans," he experimented with this method. The artist made use of tiny dots and vivid hues in his work.
Caille Pissaro's Collaborations With Other Artists
Pissarro was a creative who was willing to experiment with new trends as they appeared. When the art of the time evolved, he would give various ideas a try, eventually returning to Impressionism and neo-impressionism. He accepted the teachings of Melbye and Corot. He collaborated with other painters of the time, including Monet, Cézanne, Renoir, and others.
It was amazing to witness Camille Pissarro's distinct and beautiful style. He played a significant part in the mid-1800s Impressionism movement. Pissarro's use of color helped to make his concepts come to life. 
Pissarro's use of vivid colors and brushstrokes (thickly coated paint and brief probing strokes) drew everyone's attention in his day and the contemporary art world. Due to his incredible skills, he is one of the most significant artists we had during the impressionist period. His painting techniques and abilities are still in use.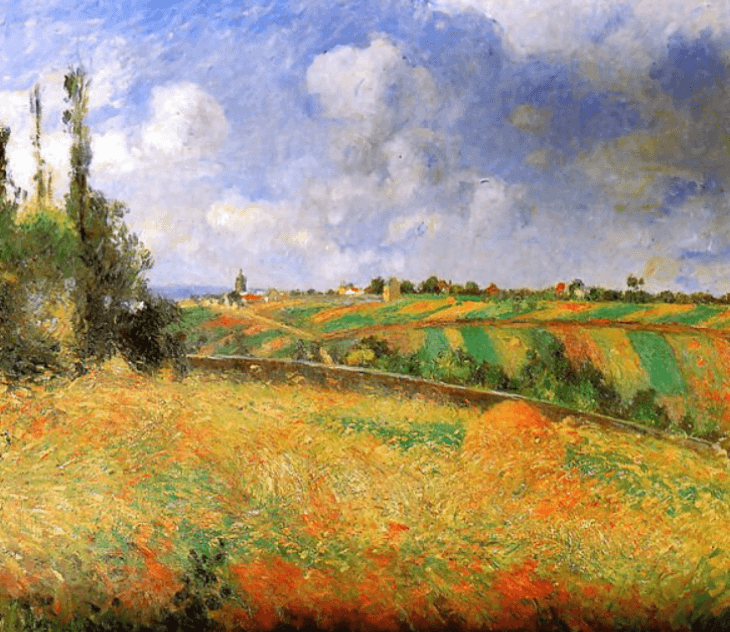 Conclusion
Pissarro was unquestionably at the center of everything Impressionist. He collaborated with other impressionist painters of the day, and the two organized the opening of the first Impressionist exhibition in Paris. 
The famous Pissaro used bright colors to capture the scene's natural impacts of weather and natural light. Even later, he always opted to try out new things and frequently embraced pointillism. Pissarro was generally considered to be his critic and still is. He painted attractively, adhering to tradition, just like the masters, and had a broad and firm range of touch.