The first example of horse paintings was found in the Lascaux caves in France, which contain prehistoric paintings estimated to be more than 16,000 years old. Horses were also commonly portrayed In ancient Egyptian, Grecian and Roman art. However, horses were only seen as part of a dominant religious scenery in Christian and Byzantine art. 
Since the Renaissance period during the 14th century, horses have again become popular to sketch and paint. Famous Italian artists like Andrea Mantegna, Raphael, and Leonardo da Vinci portrayed them. This tradition continues to be observed today.
If you want to decorate your space with famous horse paintings, there are many paintings from which you can choose your compilation. Most original famous paintings of horses are in museums and private collections, but there are excellent legal reproductions available for you to purchase for your space. For your convenience, we'll list some of the famous horse paintings.
Horse Frightened by Lightning by Eugene Delacroix
For Delacroix, color was the primary way of expression. He is known for his use of expressive brushstrokes. His study and use of the optical effects of color would eventually influence the emergence of the Impressionist movement.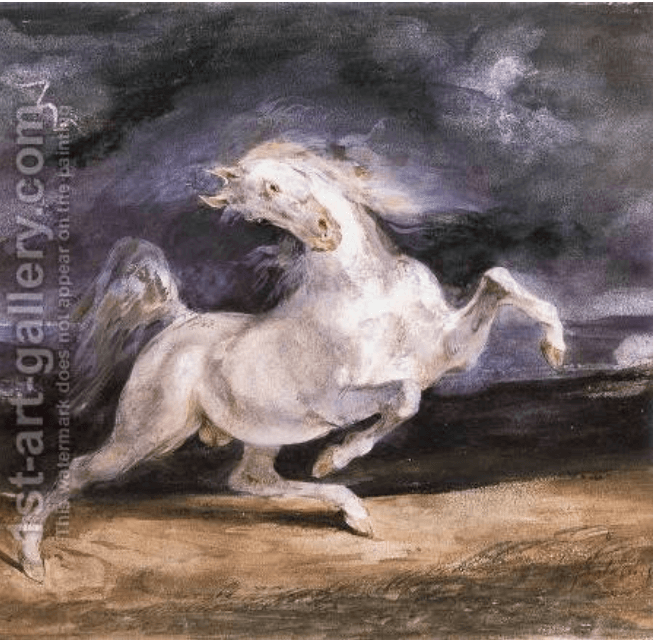 Although his ideas about color led to the Impressionist movement, he was one of the leading figures of French romanticism during his lifetime. He painted many horse paintings, but "Horse Frightened by Lightning" is undoubtedly the most famous horse painting and will look good in any space.
He created this painting in 1825, and it can now be viewed in the Museum of Fine Arts in Budapest.
Whistlejacket by George Stubbs
According to art critics, one of the most iconic and famous horse paintings ever created, "Whistlejacket," was painted by George Stubbs. Stubbs was a self-taught artist who learned to create exceptional artwork by only viewing works from prominent artists in his early life.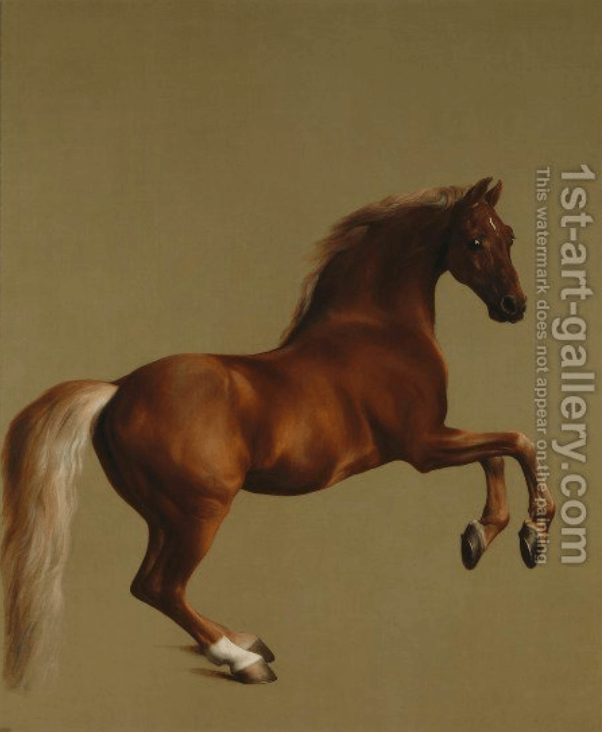 "Whistlejacket" is an oil-on-canvas painting and is probably one of the best-known horse paintings in the Western art scene. British artist, George Stubbs, created it in 1762. 
It is a huge painting that shows the Marquis of Rockingham's racehorse at nearly life-size. The canvas is large and has no other content except some discreet shadows. These two aspects – that it is a life-size portrait and that no different background than shadows is used – make this painting unique. It will decorate any space beautifully. 
An Officer of the Imperial Horse Guards Charging by Theodore Gericault
Another painting that will fit in with any other horse painting is "An Officer of the Imperial Horse Guards Charging". This painting is also known as "The Charging Chasseur" and was painted by the French artist Theodore Gericault in 1812. Again, it is an example of French romanticism. It portrays a mounted Napoleonic cavalry officer who is ready to attack. The painting forms part of the Louver collection.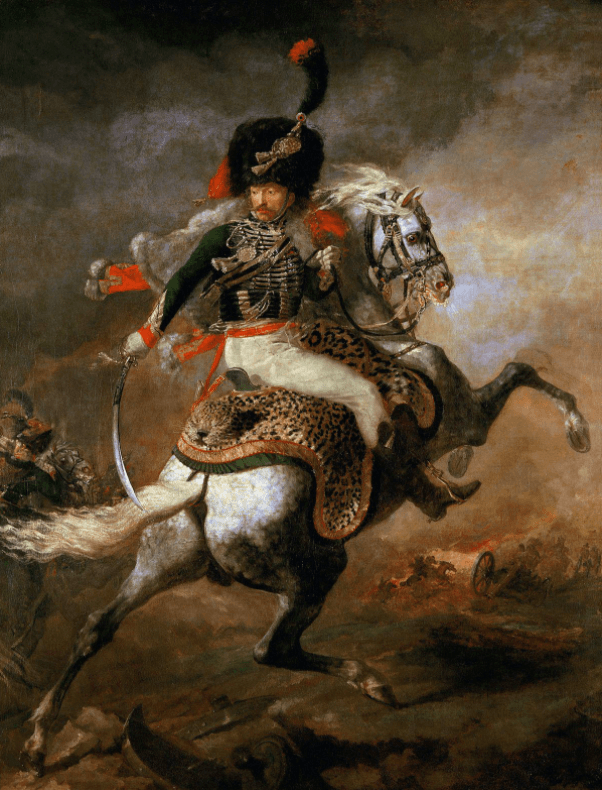 Some art critics comment that the painting has similar motifs as Jacques-Louis David's "Napoleon Crossing the Alps." However, Gericault's vigorous paint handling and diagonal arrangement on the canvas distance this painting from David's Neo-Classicism.
The Horse Fair by Rosa Bonheur
"The Horse Fair" is one of Bonheur's most famous works and is seen by many art critics as one of the most renowned horse paintings ever produced. She completed it in 1853. This painting is unique because Rosa Bonheur was a prominent female artist in France during the 1800s when most museums and academies discouraged women from being artists.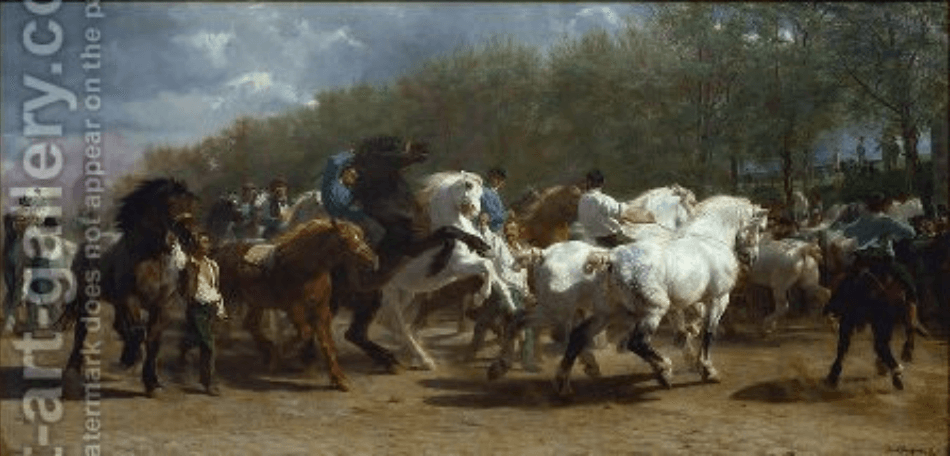 Early in her life, she developed a talent for drawing animals and was one of the greatest animal artists from the Realism era.
At the Races by Edgar Degas
This painting with horses and humans will enhance any place where you exhibit it. But unfortunately, it took Degas 3 years to complete the work he had started in 1877. It is the most conservative and naturalistic painting by the French impressionist Edgar Degas. The painting is an action-filled piece, with horses and riders in motion and at rest.
The painting also showcases Degas' close-up detail and distant perspectives. He also paid special attention to color, light, and shadow.
La Chasse ("The Hunt") by Albert Gleizes
This painting is an example of Gleizes' highly dynamic Cubist style. It can be an excellent conversation piece. Of course, not everyone will like the type, but it is regarded as one of his greatest works.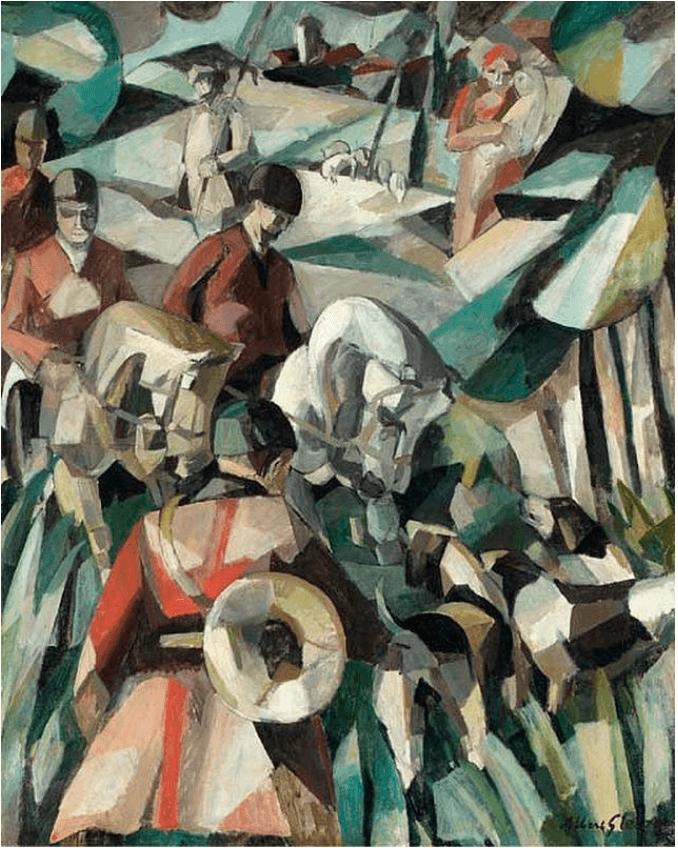 "La Chasse" or "The Hunt" was painted in 1911 by the French artist Albert Gleizes. The artwork has recognizable elements related to the subject. It depicts a hunting scene with seven people and numerous animals. 
As the men on horses are preparing for departure, the painting conveys the tension in the air as the hunters and animals interact with one another.
Reiter ("Lyrishes") by Wassily Kandinsky
If this painting is exhibited in your space, you will have another great conversation piece. However, not everybody will recognize that it is a painting of horses. The work was created in 1911 by Kandinsky, who is regarded as one of the fathers of abstract art. It was painted during his "Blue Rider Period."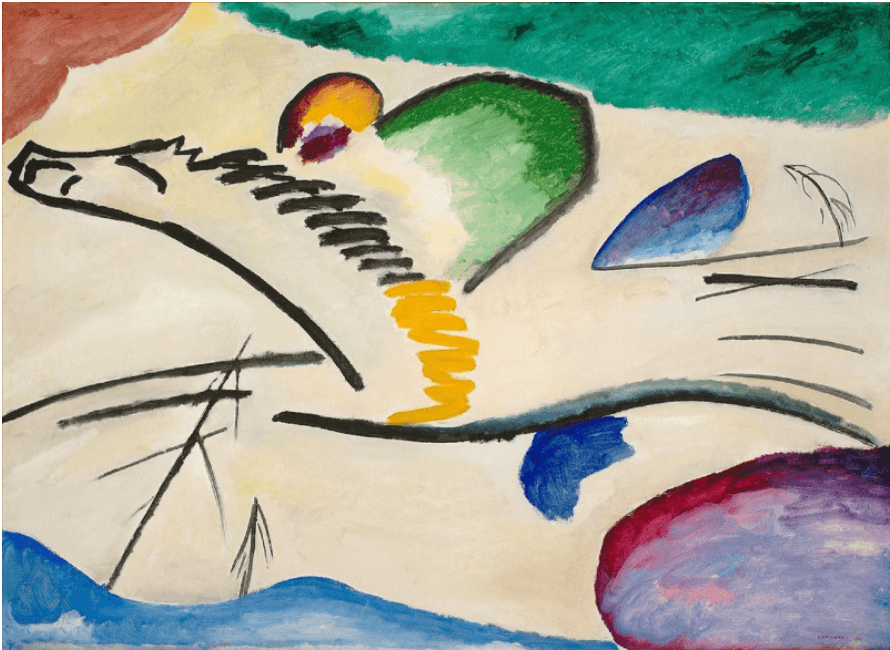 The painting is large, expressive colored masses of forms and lines. "Reiter" is not the only painting by Kandinsky depicting horses. If this painting is part of your compilation in your space, you've succeeded in combining "older" works with modern abstract art.
Guernica by Pablo Picasso
Without Picasso's " Guernica, you can't have a compilation of horse paintings representing different art periods without Picasso's "Guernica." Art critics deemed this work as one of the great masterpieces of the 20th century.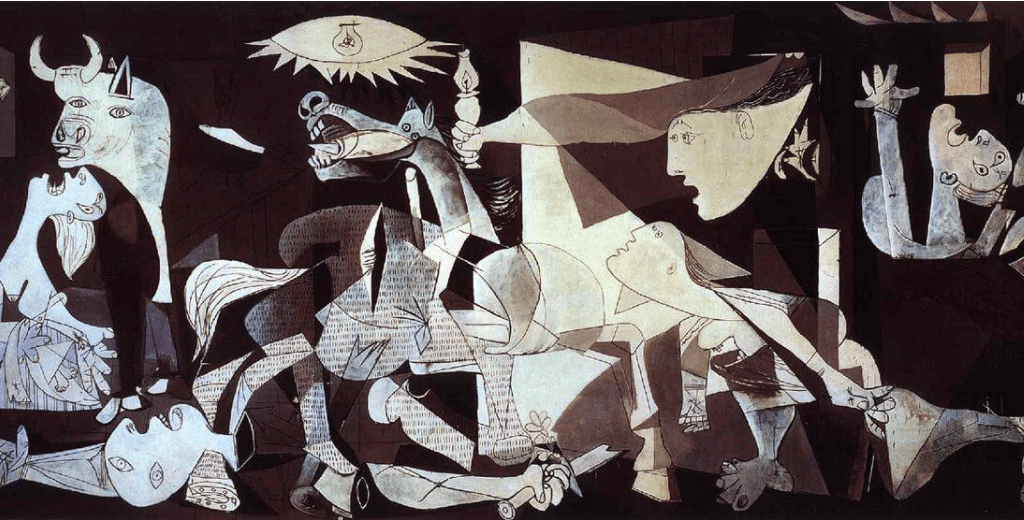 Although it is not a horse painting per se, this large-scale painting has a horse as one of the central figures in the composition. The horse occupies the center of the painting – a horse falling in agony. As Picasso was never interested in explaining the elements of this famous painting, there are various interpretations of the depiction of the horse in Guernica. 
Many art historians agree that it symbolizes the suffering Spain experienced during the Spanish Civil War. 
The Bottom Line
There are thousands of horse paintings in the world. To compile a list of horse paintings to be exhibited in somebody's space is difficult because the exhibitor must love the works in his space. In this article, we've tried to name some of the most famous works and to be representative regarding the different art periods and styles.